Host a Killer Halloween Party with these Horror Movie Inspired Cocktails!
movie: HOCUS POCUS
"It's just a bunch of hocus pocus!"
This cocktail is inspired by Disney's Hocus Pocus. As they film the sequel in Rhode Island, get in the Halloween Spirit with this unique witches brew made with Mancini Beverage's very own Empress 1908 Gin!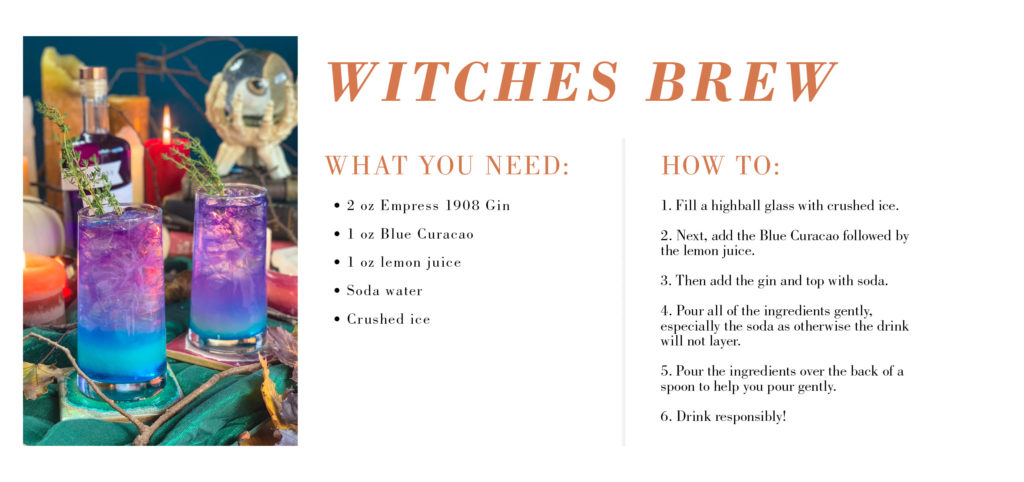 ---
movie: THE TEXAS CHAINSAW MASSACRE
The Hewitt House is essentially a morgue, right? Come face to face with the one and only horrific Leatherface this Halloween and serve your guests a creepy morgue-a-rita featuring YaVe Tequila for this chilling movie!
---
movie: NIGHTMARE ON ELM STREET
♪ One, Two, Freddy's Coming For You ♪ Spend your Halloween night on Bulleit Bourbon Street instead of Elm Street!
---
movie: THE AMITYVILLE HORROR
The Amityville Horror Spicy Devil's Brew is inspired by the movie which is inspired by the book, which is inspired by true events…whew! What's more terrifying than a true story horror movie on Halloween?
---
movie: IT
Honor little Georgie Denbrough this Halloween night by having a spiked Three Olives Vanilla Vodka ice cream float in his name. Who knows? Maybe You'll Float Too!
---
movie: FRIDAY THE 13TH
Want to do Halloween the right way? Set up a campfire and projector in your backyard, stream Friday the 13th and return to Camp Crystal Lake with these delicious fireside cocktails!
---
movie: CANDYMAN
Dare to say his name this Halloween. Whether you're a 1992 Candyman fan or a 2021 Candyman fan–the fact remains–we love the Candyman. Take a spin on his name and get HOOKED on these Fireball Cinnamon Whisky soaked gummy bears!
---
movie: SCREAM
"What's your favorite scary movie?" Ghostface might get upset if you don't answer with the SCREAM franchise. Halloween is all about the scary movies and treats, so grab your guests a Van Gogh Vanilla Vodka Cookies n SCREAM Pudding Shot and roll the film!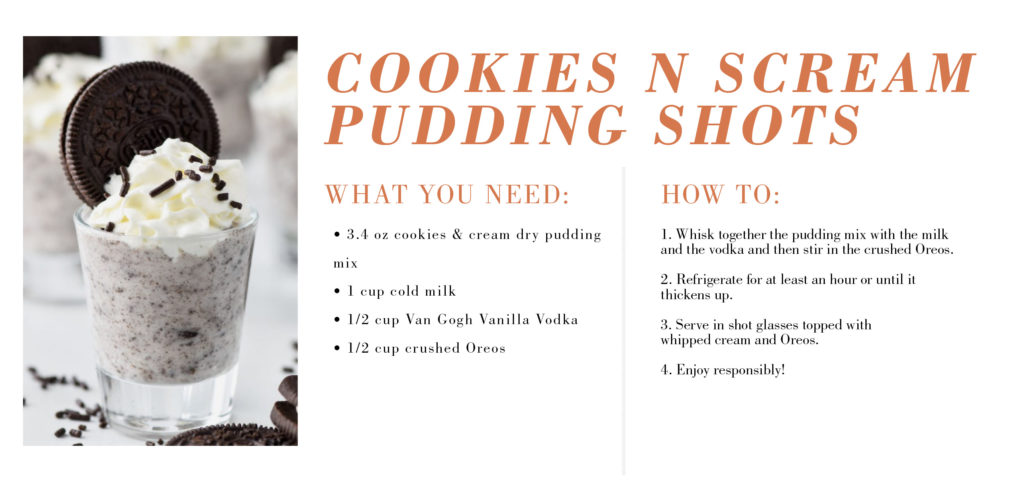 ---
movie: THE SHINING
HERE'S JOHNNY! No, just kidding. This Captain Morgan Spiced Rum RedRum Cocktail is inspired by Stephen Kings book and Stanley Kubrick's The Shining, perfect for your Halloween Horror Party!