INTEGRITY
We are transparent, honest, ethical and fair. We are trusted and trustworthy. 
PARTNERSHIP
We cultivate networks of suppliers, customers and employees to achieve mutual and enduring value.
LEADERSHIP
With the mindset of owners, we are leaders in our areas of responsibility, committed to delivering long-term success.
FAMILY
Family-owned and operated since 1959, we are dedicated to our exceptional employees who drive our collective success.

VISION:
We aspire to be the industry leading total beverage distributor in Southern New England.

MISSION:
To be beverage experts in our communities, delivering exceptional sales, services and results for our customer and supplier partners.
1959

Antonio Mancini purchases the Providence Beverage Company, a Rhode Island beer distribution business.

1968

With the acquisition of Rhode Island Distributing, Raymond Mancini, Sr., Antonio's son, assumes a primary leadership role.

1985

Mancini Beverage launches Coors Brewing in RI, solidifying its role as a significant player in the local beer business.

1989

Centrex launches as a shipping and logistics platform, allowing us to be a leader in efficient route to market.

1993

Mancini Beverage commits to it's non-alcoholic portfolio, acquiring Snapple and Polar brands.

1998

Ken Mancini becomes President, marking a third generation of family leadership.

2001

Northeast Beverage launches in Connecticut with Red Bull driving the new territory expansion.

2002

Rhode Island Distributing is appointed Diageo for RI, significantly increasing its spirits portfolio to include industry leaders like Jameson, Tangueray and Captain Morgan.

2002

With the purchase of Burts Beverage, Northeast Beverage launches a premium beer portfolio, including Stella Artois.

2006

Northeast Beverage acquires Connecticut Beverage, expanding its CT beer and soft drink portfolio to Heineken and Snapple

2007

Rhode Island Distributing partners with Martignetti Companies, strengthening its positioning in the RI wine and spirits market.

2008

Rhode Island Distributing expands its fine wines, and now represents iconic properties like Caymus Vineyards and Plump Jack.

2012

Centrex expands by 100,000 sf and 10 bays to accommodate Mancini Beverage's growing portfolio.

2015

A fourth generation of Mancini family members becomes engaged in the beverage business.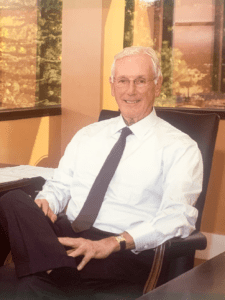 Raymond is a true leader and entrepreneur, who built the early beverage distribution business side by side with his father, Antonio Mancini. He learned from his father integrity, dedication, a strong work ethic and the adage
"
if
it is to be, it's up to me
". Raymond later diversified his model into other areas, including flooring distribution and real estate investment.
Raymond exhibits a strong commitment to community, and education in particular. Raymond has committed his time on the boards of several non-profits, including Roger Williams Hospital and Boston College Law School. He is also a member of the La Salle Academy Hall of Fame.
Raymond served in the United States Army, where he trained and mobilized for the Cuban Missile Crisis and the Fall of the Berlin Wall. He holds a BA and MBA from Boston College. Raymond has 4 children and 10 grandchildren.
COMMUNITY
INVOLVEMENT
We are proud of our local communities and we are committed to helping them be stronger places for our families and friends to live, work and thrive. Our team members share in this spirit of philanthropy and regularly donate their time and resources to local organizations and events dedicated to improving the lives of the people and the environment around us.
SOCIAL
RESPONSIBILITY
Ensuring the responsible enjoyment of our products is foundational to our business. We take this commitment very seriously and are proud to promote our products in a legal, safe and ethical manner.
Our sales team members are TIPS certified to ensure each understands the importance of responsible consumption and knows how to support it in the field.
WE ARE PROUD TO SUPPORT OUR COMMUNITY AND EXTRAORDINARY ORGANIZATIONS: