Tour Oregon Wine Country Without Leaving Rhode Island
If you've yet to experience the incredible quality of Oregon wines, you're missing out on some of the best wine the U.S. has to offer. While touring Oregon wine country is a wonderful way to discover its many vineyards, doing so may not be in your customers' immediate futures. The good news? Rhode Island wine distributor Mancini Beverage can help you offer them the next best thing with an exquisitely cultivated selection of Oregon wines.
Here's a closer look at Oregon's bustling wine industry, along with an overview of Mancini Beverage's available selection.
Getting to Know Oregon Wine Country
The Pacific Northwest's mild winters and warm, cloudy summers make Oregon the perfect region for wine production. The state is home to more than 725 wineries in 19 American Viticultural Areas (AVAs) across four main growing regions: the Willamette Valley, Southern Oregon, Columbia Gorge, and the Walla Walla Valley. The Willamette Valley is especially prodigious – it accounts for 70 percent of Oregon's plantings.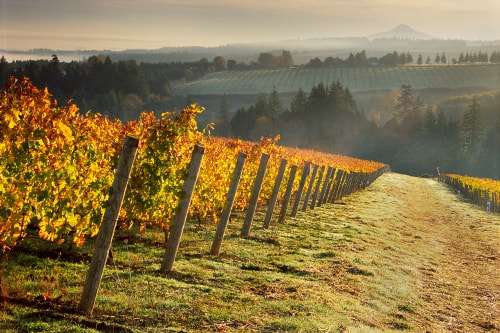 Pinot Noir is the region's most successful grape, making up 50% of total production. Oregon wine is about much more than just the grape known as the "iron fist in the velvet glove." Wine Enthusiast magazine notes that "Oregon Pinot Noir has enjoyed much success, but the state is not a one-trick pony. Oregon's diversity of climate and soil has encouraged winemakers to expand their viticultural horizons." In fact, Oregon now grows 72 varieties of wine grapes.
Oregon Wines at Mancini Beverage
Mancini Beverage is proud to represent several outstanding Oregon winemakers, including the following:
As Oregon wine country continues to make a name for itself on the global stage, isn't it time you started offering its wines to your customers? Contact Mancini Beverage today to place your order.