GAJA WINES IN RI AT MANCINI BEVERAGE
"Located in Piedmont in northwestern Italy, the GAJA winery is widely considered to be one of the greatest estates in the world, producing coveted and collectible labels. The story of the GAJA Winery can be traced to a singular, founding purpose: to produce original wines with a sense of place which reflects the tradition and culture of those who made it. This philosophy has inspired five generations of impeccable winemaking. GAJA is a pioneer and guardian of tradition, a legacy that continues to reshape the standard for excellence in the world of winemaking today."

https://wilsondaniels.com/winery/gaja/
Mancini Beverage is proud to be representing the great wines from Gaja, one of the most recognized and respected families in Northern Italy.
---
GAJA Barbaresco
2019 Barbaresco has glaring vivid colors thanks to a good presence of anthocyanins. It immediately brings out notes of rose and wild strawberries followed by lighter notes of marzipan, wild fennel and a hint of juniper. Tasting saline, the wine has good length and a perception of crisp red fruits balanced by bright acidity. Together with the freshness and a tense structure, they define the main characteristics of the 2019 vintage.
---
GAJA Costa Russi
Dark ruby/purple. Beautifully elegant aroma's of violets, red fruits, citrusy notes and spicy plum rise from the glass. The wine has a very clear fruit expression, opening on the palate with red orange, plum and a hint of licorice. The balance between aroma and flavor is striking. Costa Russi, of the three single-vineyards, seems to be the least structured, yet it has remarkable texture, mouth-filling fruit, monumental length and impresses with it's harmony and class. The tannins are firm but velvety, and the wines finishes with notes of dried roses and violets, classic Barbaresco characteristics best expressed in only the very top vintages.

---
GAJA DaGromis
2018 DaGromis has a bright ruby color with garnet highlights. On the nose, fruity with notes of sugar cane and orange underlined by lemongrass. On the palate, delicate showing rich aromas that correspond to the nose and integrate a lush finish. It is juicy, tasty, and balanced.
---
GAJA Gaia Rey Chard
Refined and very floral on the nose, with a shiny straw yellow color. The nose opens up citrus and honeyed, followed by white peach and cantaloupe notes. It is creamy and voluptuous on the palate. 2020 Gaia & Rey is a moving wine, with a vibrant freshness and lingering finish with a quality of sapidity. It shows remarkable elegance.

---
GAJA Rossj Bass
2021 Rossj-Bass displays the main features of the vintage well, with intense fruit concentration and floral notes. The nose shows ripe citrus notes of lemon peel and orange evolving into tropical fruits. The richness of the nose and the same notes are reflected on the palate, where remarkable acidity balances the fruit concentration. The wine is rich, full-bodied and creamy, with a long finish.
---
GAJA Sito Moresco
Ruby red with violet hues. The wine has primary citrus notes reminiscent of fresh blood oranges. An explosion of red cherry and herbal notes follow with ripe apricot and bell pepper. The fragrant mouthfeel matches the olfactory impressions. Juicy, vinous and fresh, with soft tannins. It is structured and balanced.
---
GAJA Sori San Lorenzo
The 2017 Gaja Sori San Lorenzo is deep purple in appearance. The nose introduces itself as a fruit basket loaded with black cherry, blackberry, raspberry and wild strawberries showing aromas that are beautifully harmonious, with freshness provided by mint and licorice notes. The palate displays hints of sweet tobacco, loamy earth and minerals line the finish, giving this wine fascinating range and length. Initially forceful, the tannins become ripe and velvety. This wine has magisterial persistence and definition.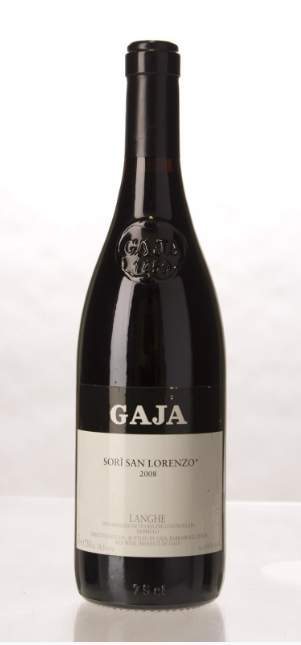 ---
GAJA Sori Tildin
Deep purple color. Shows fresh and balsamic first notes, with aromas of lavender, basil, freshly-cut grass. Then it turns into a spicy and smoky character, with white pepper, clove and cinnamon. The palate is compact and clean, with notes of red apple, wild strawberry, blood orange, and licorice. Firm, fine-grained tannins keep this wine tightly wound, leading to the great aging potential.