7 Fall Beers Your Customers in Connecticut Want This Year
While any season is a good season for a beer, the fall is usually the most popular. With an influx of frothy favorites, your customers are going to be asking for the new fall beers of the year, and you will want to be able to deliver. At Mancini Beverage, we have a robust inventory of the best fall beers in Connecticut so that you can stock your shelves and/or bars with what your customer wants.
1.   Paulaner Oktoberfest
Made in the land of Oktoberfest (Germany), the Paulaner Oktoberfest Bier is widely popular across the world. This amber-style beer was developed for the original Oktoberfest more than 200 year ago, and its rich flavor, perfect hop balance, and dark toffee notes keep drinkers coming back for it time and again.
2.   Hacker Oktoberfest
Another classic Oktoberfest brewed in Germany, the Oktoberfest Märzen by Hacker is brewed in March so it can be refined and ready to drink come Oktoberfest. The beer is smooth, malty, and a true representation of the beer our ancestors drank at the original Oktoberfest.
3.   Ayinger Oktoberfest
The third Oktoberfest variation on our fall beer list is the Ayinger Oktoberfest. Also made in Germany, the beer brings an alluring flavor of barley and malt with a gorgeous amber color.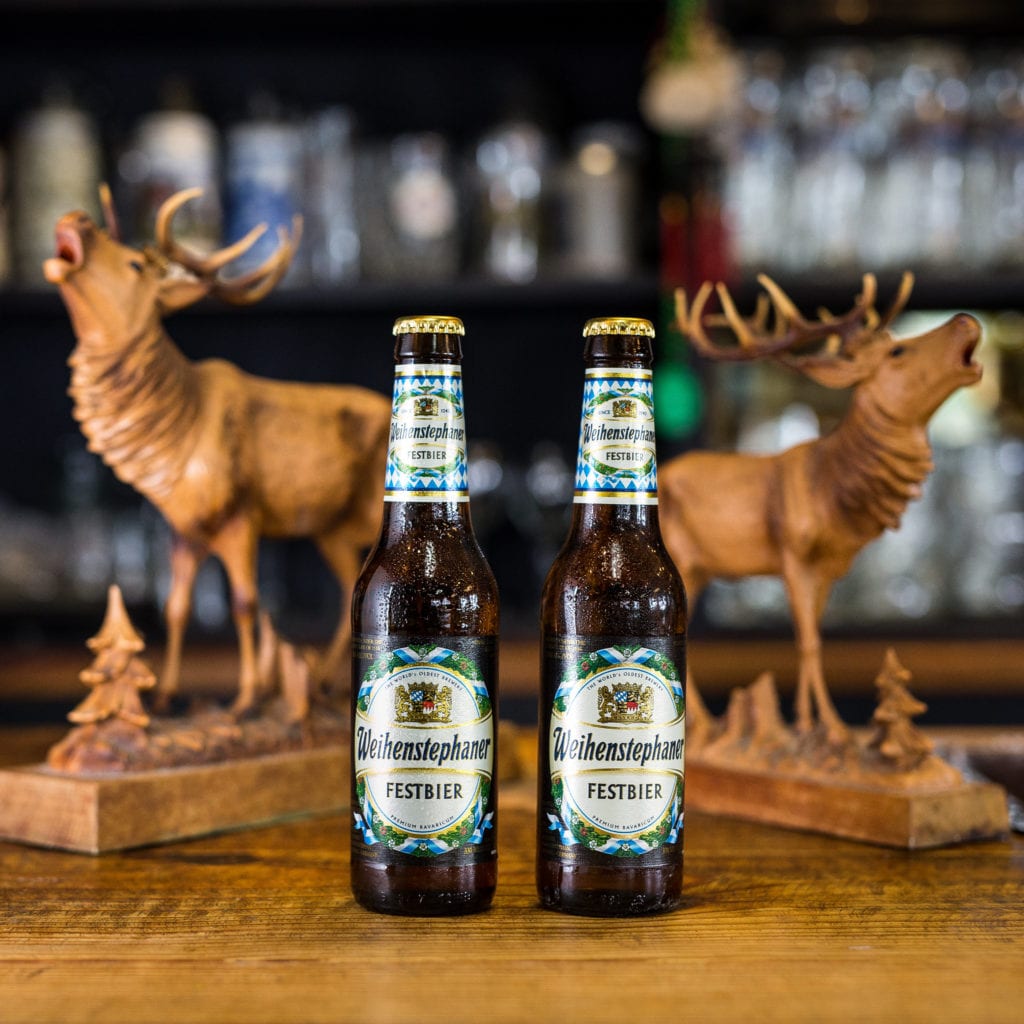 4.   Weihenstephaner Festbier
Similar to their collaboration with Sierra Nevada, yet more authentic to Germany, the Festbier puts a Bavarian celebration into a glass. With its incredible mouthfeel, deep golden color, and a hoppy, seasonal flavor, this is sure to be a popular choice.
5.   Sierra Nevada/Weihenstephaner Oktoberfest Collaboration
Beer drinkers love good flavor, and they also love limited-time releases, which is what they will get with the Sierra Nevada/Weihenstephaner collaboration. They take the classic Oktoberfest malt backbone and balance it with hops for a crisp, refreshing fall beer that captures the spirit of the season.
6.   Shipyard Pumpkinhead
From our neighbors in Maine, the Shipyard Brewing Company's Pumpkinhead fall beer is always a popular choice in Connecticut. It is a wheat ale with subtle aromas of spices, including cinnamon and nutmeg, that combine flawlessly with the pumpkin flavor that beer drinkers crave in the fall.

7.   Warsteiner
Also from Germany, but with a lighter taste, the Warsteiner Brauerei is a pale golden pilsner that balances subtle hints of barley malt with mild yeast tones and a slight hoppy bitterness.
Now that Fall is in full swing, you will want to make sure to have all of the hottest fall beers for bars and restaurants in Connecticut. As your trusted CT beverage distributor, we will ensure you always have the in-demand beers ready when you need them, so your customers will be happy customers. To learn more, contact us today.