book: The Great Gatsby by F. Scott Fitzgerald
cocktail: Flaming Sidecar
Ingredients
30ml Rémy Martin 1738 Accord Royal, plus extra to serve
15ml Cointreau or other orange liqueur
Juice 1/2 lime
1 brown sugar cube
Ice cubes
Long matches
Directions
Stir or shake together the Rémy Martin, Cointreau or orange liqueur and lime juice. Fill a wide shallow glass with ice cubes and pour in the cocktail.
Ensure the lime half is well squeezed out then place a sugar cube in the lime 'shell' and carefully fill with extra Rémy Martin. Place the lime on top of the ice ensuring it sits above the cocktail. Carefully ignite the sugar cube to serve.
Extinguish the flame and allow the cocktail to cool before enjoying.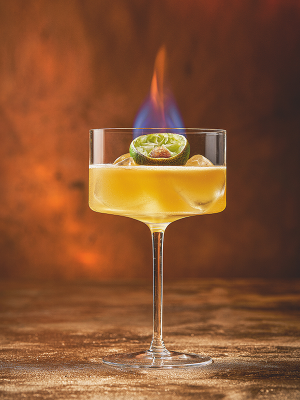 ---
book: Lord of the Rings by J.R.R. Tolkien
cocktail: Shire Flower
Ingredients
3 oz. Tito's Handmade Vodka
3/8 oz. Elderflower liqueur
3/8 oz. Lemon juice
1 bar spoon apricot preserves
Directions
Pour ingredients into a cocktail shaker filled with ice and shake until ice cold.
Double strain into a chilled cocktail glass.
Garnish with small, white flowers.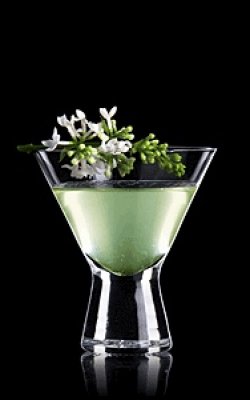 ---
book: Frankenstein by Mary Shelley
cocktail: Sour Frankenstein
Tequila
Simple Syrup
4 limes
1 cucumber
Salt
Freeze your glassware to help the fake blood stick to the rim.
Mix boiling water and sugar together to create simple syrup. Put it in the freezer to let cool for 10 minutes or so.
Meanwhile, make the fake blood (optional).
Use a blender to blend the water, limes, cucumber and salt until mixture is well mixed.
Strain pulp using a fine mesh sieve, then add simple syrup and stir.
Rim each glass in fake blood.
Add 1.5 oz tequila and a handful of ice to each glass, then top up with margarita mix. Serve and enjoy!
---
book: The Catcher in the Rye by J.D. Salinger
cocktail: Scotch and Soda
Ingredients
1½ oz Scotch Whiskey
¾ oz Rye Whiskey
2-3 dashes of Lavender bitters
3 – 4 oz of Club Soda
Directions:
Build your cocktail in your chilled Highball glass filled to the top with Ice.
Add Lavender bitters, Scotch and Rye Whiskey.
Top off the simple cocktail with Club Soda.
Garnish with a Lavender spring to accentuate the floral flavors.
---
book: To Kill a Mockingbird by Harper Lee
cocktail: Tequila Mockingbird
Ingredients
1 1⁄2 oz tequila
1⁄2 oz triple sec
1⁄2 oz blue curacao
2 oz orange juice
1 oz cranberry juice
Directions
Fill a large glass with ice.
Layer tequila and triple sec first, followed by orange juice, then cranberry, then blue curacao.
Do not stir.
Serve.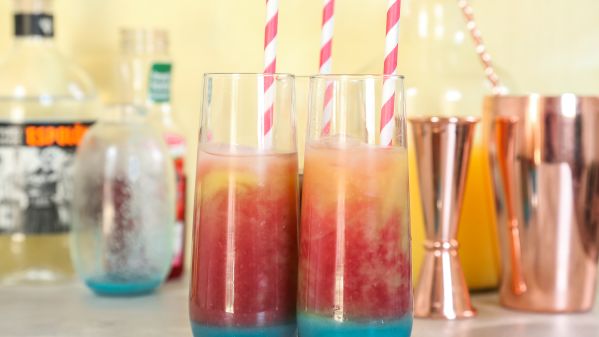 ---
book: Alice's Adventures in Wonderland by
cocktail: Cheshire Cat Cocktail
Ingredients
1 oz Cherry Vodka
1 oz Blue Curacao
1/2 oz Strawberry Vodka
1/2 oz Grenadine
2 oz Sprite
For the glass
Purple sanding sugar
Lemon
1 small plate or bowl to decorate your glassware. Pour out some of your sanding sugar into the plate or bowl.
Directions
Prepare the glass
Now cut a lemon in half and rub the juice along the rim of the glassware
Then take your glassware and dip it in the sugar – set to the side
For the cocktail
In a large bartender shaker add both vodkas and grenadine along with only a few pieces of ice
Shake well to combine
Fill your glassware 3/4 of the way full with ice
Now add your Vodka mix and fill ONLY 1/2 way
Rinse your shaker with water
Now add the Blue Curacao and sprite
Shake well to combine
Use a large serving spoon upside down hold it above the glass and slowly pour the Blue Curacao mix into the glass.
You are pouring the mix directly onto the spoon and letting the liquid drain off the spoon into the cocktail glass
If you do it slow it will not mix.