Captain Morgan Smashes into Summer with Apple-Flavored Rum
When the weather is hot outside, nothing is more refreshing than a cold, fruity flavored cocktail. Now, with Captain Morgan's newest release, your customers will have an easy choice to make. Captain Morgan Apple Smash is the epitome of summer and it is the perfect mixer or shot for any barbecue or get together. Whether a bar or liquor store, everyone needs to make sure to have plenty of Captain Morgan's Apple Smash on the shelves.
About Captain Morgan's Apple Smash Rum
Captain Morgan is renowned for being the go-to party drink. They offer a variety of delicious, tried-and-true rums that mix well with just about anything. Apple Smash is an exciting addition to the flavored rum collection that already includes popular options like Watermelon Smash, Loconut, and Cannon Blast.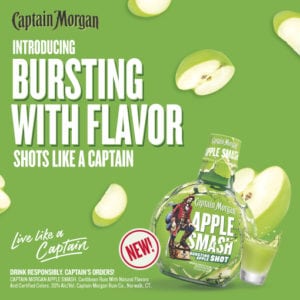 Apple Smash is Captain Morgan's classic Caribbean rum, infused with fresh apple flavoring. It is delicious straight up, but it also makes a refreshing mixer for a variety of cocktails. It can be added to club soda or lemon-lime soda for a craveable spritzer, or it can be mixed with butterscotch schnapps for a caramel apple cocktail. The possibilities with the Apple Smash are only limited by your (or your customer's) imagination. Pair it with hard cider for an extra strong, extra apple-y beverage, or partner it with peach schnapps and cranberry juice for a Jolly Rancher in a glass.
Specifics
Apple Smash is 60 proof and available in a 750 mL round, eye-catching bottle. You can market this as the summer drink of the year or as a four-season staple and it is sure to fly off the shelves.
We Are Your Reliable Liquor Distributor
Whether you are looking to stock your shelves or bar with Captain Morgan's Apple Smash, or you need to fill the shelves with other in-demand wine & spirits, you can count on Mancini Beverage. As your trusted liquor distributor, we will work with you to make sure you have everything you need, when you need it. We respect your time and your business, so our delivery drivers will show up at the scheduled time and work swiftly and carefully.
From Apple Smash to any other alcoholic or non-alcoholic beverage you want to sell, you can depend on us as your RI distributor. To learn more about how we can help your business thrive with the most on-demand beverages, contact us today. Because when your customer asks for something specific, we'll help you provide it.